1
« on: January 08, 2019, 04:03:05 PM »
It doesnt need to be something actually released last year. Neither of mine were (just the versions I played). Dark Souls Remastered and the switch port of Kero Blaster.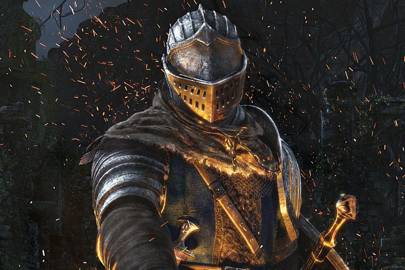 Dark Souls
was so damn good I was willing to start over when a power surge killed my save halfway through. The dark yet beautiful fantasy atmosphere, the story and worldbuilding you have to hunt down to find, the hard but deep and fair gameplay (minus the platforming), and the interconnected almost metroid-y world all come together into something truly unique. I almost want a ps3 just for demons souls. but so far Bloodborne and Dark Souls 3 have sated my hunger for more dark souls, even if they didnt quite capture me as much. Though I'm no where near done with DS3. Bloodborne was some incredible stuff but I feel the story could be just slightly more involved and used more NPCs to talk to. Dark Souls 1 struck a good balance with that. Bloodborne felt more like a series of levels with cool lore. do remember before you buy though, that the remastered version has a strangely worse and less atmospheric lighting system (though not ruinously so) but is also 60fps instead of 30 and doesnt lag like the old game apparently did in places like blighttown. Pick what you value more if you pick up the original or the remaster.
Kero Blaster
is by the dude who made Cave Story, and apparently it was similar to it early in development. I bet some people would have wanted that instead of a linear platformer shooter. I sure would have enjoyed that, but I'm glad he went with something new. It's one of the most viscerally satisfying jump and shoot games I've ever played. It just FEELS good. Every weapon is fun and every upgrade changes the behavior of said weapon instead of just adding strength (thought it still does). each weapon is necessary and tactically useful throughout the game too. and when you unlock hard mode it's actually an entirely new story set after the first mode with new color pallettes enemies and platform placement for every level and boss. I love when games do shit like that. Reminds me of Kirby Dreamland 1 when all the enemies changed designs on hard mode. while understated the story and world had me curious. But you gotta dig for it and analyze it a bit to know whats going on. It isn't anything deep either, it's mainly about dealing with current and pent up anxiety as far as I can tell. apparently that anxiety turns into the monsters you fight? But it isn't bad or shallow either, it's very charming in fact. Being a bit esoteric works out for it like with dark souls, but it could have been a little more straightforward. Cave Story got it better in that sense. the pixel art is charming as all hell too, just like Cave Story and Ikachan before it.
The best thing truly released in 2018 that I actually got around to on time was Super Smashio Brothers Ultimatum because they finally put in King K Rool. He's fucking good too, not only is that crown throw thing tactically useful AND hilarious, the fat bastard has a combination reflector/counter. eat shit everyone from Fire Emblem and Starfox my boy has the golden gut. complete with invulnerability during his smash attacks what the fuck is that. that said Starfox got Wolf back, and he's got his "oh you're good but i'm better" line too. oh and spirits mode was fun too. I was hoping for more bombastic brawl-style cutscenes but god damn that world map was a fun concept and incredibly well fleshed out.